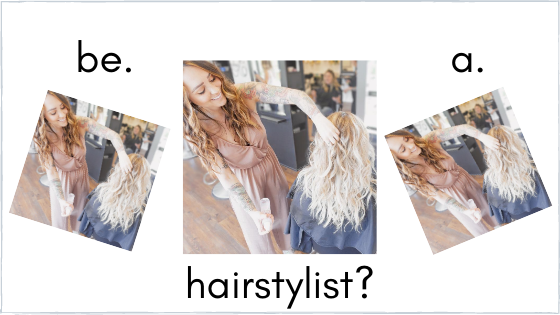 I read an article recently filled with great advice for Hairstylists and Salon Owners.  It inspired me to write my own thoughts down on what I feel should be shared with all potential stylists.
It explains the reason why they should want to enter the industry and gives fundamental insight into whether being a Hairstylist is really what they want to pursue.
Very few aspiring Hairstylists understand this essential truth.
Its not about the hair.
Surprised?  😯
I think most people signing up for hair school would disagree with that statement, but most of us who are earning our living as career Hairstylists know this as fact 💯
I'm sure any Hairstylist you ask will tell you how much they love doing hair. Coloring, cutting, styling – it's something we are extremely passionate about. A way for us to express our artistry and create.
As artists, hair is our medium.
The feeling we get from creating something truly beautiful is what drives us to continue, to find the next medium and create 🎨   It's this feeling that most young Hairstylists are chasing in their journey to turn their passion for hair into a career.
Now if you are reading this as a paying client I'm sure you are a bit confused, and rightfully so! Sound like I'm forgetting something? 😕
You are right – there is something enormous missing and this, for some Hairstylists, is where it all goes horribly wrong.
PEOPLE!!! Our medium is a person! 🙋🏼‍♀️
Not a piece of canvas, not an inanimate object. A PERSON with feelings, hopes and desires.  One who has their own likes and dislikes when it comes to their hair.  One who actually OWNS, USES and WEARS our art everyday!
You should want to be a Hairstylist because you love 💗  making PEOPLE love 💗  their hair.
Being a Hairstylist is not about you – it's about every single person who sits in your chair. Every person who hands you their time, their trust, their hair, and amazingly allows you to touch a tiny piece of their heart. A person who invites you into their life every 6 – 8 weeks.  That's an amazing privilege and responsibility to carry with you every day.
It is through a Client that you chase your artistic passion, to bring what they are dreaming of to life.
Not a people person? Stick to working with canvas 🤷🏼‍♀️
Trust me though – you'll be missing out on an amazingly rewarding profession!
So do you still want to be a Hairstylist? 💇🏼‍♀️
Thanks for listening,
Carrie