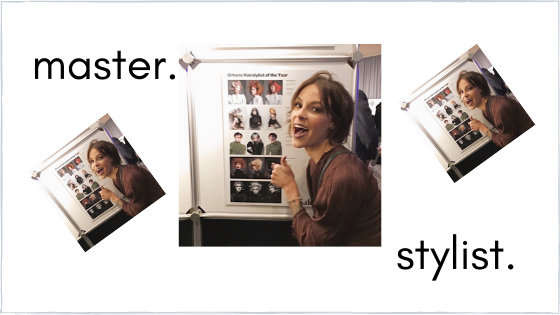 What does it take to be a Master Stylist, and who makes the rules about becoming one?
Simply put, everyone makes their own rules.  Sorry to say but its absolutely true.
There is no universal system, no Industry standard of exactly what is required to earn that title – and it's simply that – just a title.  And it you dig a little further, its actually a marketing title.  Seriously! Think of the implied trust you feel when booking with a Master Stylist! That's marketing at its finest.
Surprised? It's always blown my mind.  In an Industry where practical experience, continuing education and personal dedication make a massive difference to the skill and service abilities of a Stylist? Here's the biggest doozy of the entire thing:
Literally
anyone

can become a Licensed Stylist and 3 days later decide to call themselves a Master Stylist.

Anyone!!

Now you may feel this blog getting a touch hyprocritical seeing as we currently have a Master Stylist position in the Studio, and I myself used the title in the latter part of my time behind the chair.

But there's a difference between hypocrisy and honesty, and as always, my focus is on the latter.

The best way to explain is always to break it down as much as possible, so let's start with the definition:
mas•ter (noun): A skilled practitioner of a particular art or activity
Sounds like someone who knows it all right? Someone who's seen it all, done it all and perfected everything.  Not a single thing left to learn. Done. Complete. No further action required.
The truth is, our Industry evolves incredibly quickly with new products, ideas and techniques, and claiming you know and can do it all is like asking you to believe I rode my Unicorn 🦄 to work today and she's available for pictures 📸 in the parking lot. 
Laughable, right?
For me the title 'Master' (even though I get it is a noun when used as a title🙄)  has actually always been meant as a verb in reference to a Master Stylist:
mas•ter (verb): Acquire, complete knowledge or skill in (an accomplishment, technique, or art)
Stylist titles are not a descriptor of who we are, but of what we are committed to doing day in and day out.  What we are committed to acquiring.
A Master Stylist has perfected the art of seeking the unknown and making it known.  They've mastered the process of dedicating themselves to continual, obsessive learning.  It speaks of someone willing to fail, make mistakes, try again and never allow the clients they care for to suffer because of their learning process. Someone who cannot stop until what they are working on becomes exceptional to their standards and instead of rests, find something new to do it for – all. over. again.
Bottom line? Ask what a Stylist's title means to them. As for us, let me assure you:
Is there a system? Of course.
Is it based on a series of key performance indicators that access the level of service they give? Obviously.
Is it indicative of the price they have the ability to charge and their level of compensation?  Absolutely.
As a final thought I leave you with the words that sum up my vision of a Master Stylist perfectly:
'People who become 'Elite' at what they do aren't striving to be 'Elite' just to join some special club.  They take great joy and satisfaction in the pursuit of mastery, and they compete against themselves, not others.' – Justine Musk
Thanks for listening,
Carrie