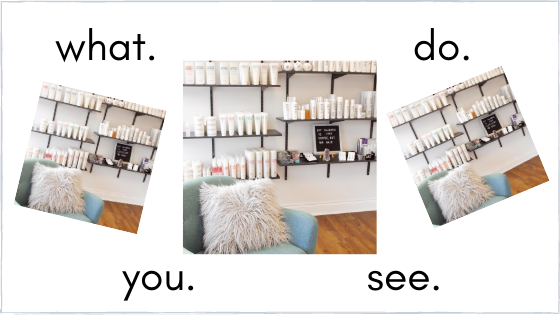 Perception is an interesting thing.  It's like a personal lens through which we see ourselves and the things around us.
Imagine two women, the first we'll name 'Jen' and the second we'll name 'Judy' 😉  Both are shown the same bracelet. It's white, a little dingy, and woven together with a bit of pink thread to create a short, solid band. On each end longer pink threads hang loosely, crimped along their length possibly from being tied.
When asked to describe the bracelet 'Jen' seems a little annoyed 🙄  and doesn't give the bracelet a second glance as she says…
'It's one of those bracelets, you know the silly kind you give to your friends as kids? The kind everybody wore around to signify they were part of the "popular" crowd.  Like they were a badge of honour or something.' She laughs a bit and continues 'So stupid to carry on about them the way the kids I went to school with did!'
After she finishes 'Judy' seems saddened by Jen's description 😔  and proceeds to describe the bracelet she has now picked up and holds in her hand.
'This is a friendship bracelet! I made one exactly like this for my best friend and we wore them everyday! We made them out of embroidery thread so they were soft just like this one is.  I loved wearing it because it kind of made me feel like I was a part of something when I saw my bestie wearing the exact same bracelet.'
After Judy finishes the two women look at each other for a minute, Jen rolling her eyes and Judy almost confused as she watches Jen's reaction.
How can the exact same thing be described so differently?  Shouldn't both women see it the same way?  It's simply white thread woven together with some pink here and there! 🤷🏼‍♀️
Although that may be an accurate physical description of what the item is, Jen and Judy's perception of the bracelet, created by their own personal experiences, is what they described.
Think of it like this….. If you slipped on a pair of pink tinted sunglasses 👓  the white bracelet would appear pink.  If you put on a pair of blue tinted sunglasses 👓  the white bracelet would of course look blue.
Perception is as individual as the colours in the rainbow🌈, and the best part is you can take off the glasses 👓 you're wearing at any time.
Your perception is the sum of your experiences.  How you see yourself, your height, weight, hair, facial features, etc, etc, carries the weight or 'tint', of past life experiences both good and bad.  That little remark made in good fun at 14 that you were 'curvy' may still be affecting the way you think you look.  Being told your skin has a rough texture by a well meaning aesthetician during a facial, may still make you second guess needing a second layer of foundation every morning.
Every experience you have adds to the 'tint' of your sunglasses.  And they add up fast 💨
But here's the thing. You can choose to take off the tinted glasses 👓
You can 'take off' or let go of what is continuing to effect your perception. To decide to see yourself in a new way and start building a better, newer perception of yourself and your life.
Don't believe me? Try it next time you find yourself seeing something completely differently from someone else.  Try it next time you have a differing opinion from someone.  There literally could not be a better time to try this.  Opinions and criticisms are rampant on social media. As you scroll, when something gets you worked up ask yourself if there is some experience in your past that is 'tinting' your view.  Challenge yourself to open up to a different perspective.
Do you really need to keep your tinted glasses 👓  on or can you remove them?
Can you change your perception on something you struggle with and start feeling lighter and happier leaving behind those old experiences that are no longer your reality behind?
I hope you'll try it.  This is personal growth babe 😘
Thanks for listening,
Carrie