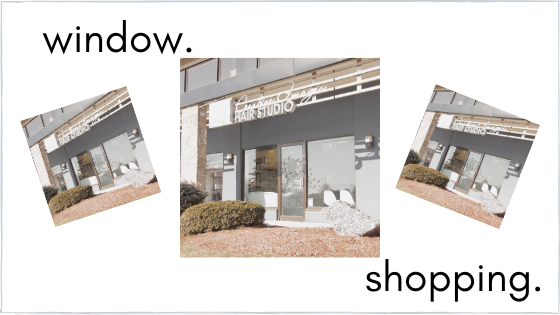 How did you make out last week?
After the intro to this blog series on How To Choose a Hairstylist, you were off to look at inspiration pictures to narrow down exactly what you want to show your new Hairstylist. Hopefully you've found some good ones and you're ready for the first step in your Hairstylist search.   So here we go with part 2!
The world is online and your new Hairstylist should be too!
Career Stylists will be visible on Facebook and Instagram, as well as on a personal or salon website.  Just being there isn't enough though! 
Now that you know what you love and have your inspiration pictures ready, what you want to do is find similar examples of the colour, cut or style you are looking for right in yur potential new Stylist's portfolio.
Seriously, I can't stress how important this really is! 
Every Hairstylist naturally develops a style and by paying close attention to their pictures you will be able to tell tell which style they excel at. 
Your new Hairstylist needs to excel in what you want!! 
Read it again: YOUR NEW HAIRSTYLIST NEEDS TO EXCEL IN WHAT YOU WANT!
The best thing you can do is find your inspiration picture right from that Stylist's portfolio.  Loving a portfolio is wonderful but if you can't see yourself with the hair in that portfolio, it's probably not the right match.  Keep in mind we are definitly talking about the overall 'style' of the hair. If you don't see your exact colour that's ok! As long as you love the overall look of the images, the Hairstylist very well could be your match!
So it's time to window shop! Take the time to really look at a bunch of different local Stylist's portfolio keeping this handy little checklist in mind.
Window shop until you can tick off each item on this list:
✔ Your new Stylist is on Facebook and  Instagram
✔ Your new Stylist is featured on a Salon's website or has their own site
✔ Your new Stylist posts work regularly
✔ Your new Stylist has multiple pictures that are the style you really like
BONUS:
✔ You are able to choose an inspiration picture for your appointment right from the the Stylist's portfolio
The best thing about this is you can window shop to your heart's content! Take your time with it, see what options are local to you and broaden your search from there if necessary.  
A word of warning…..you know the saying 'Don't grocery shop while you're hungry'? Ditto for this.  
I can hear you saying…..'these bangs won't wait'…..'I need a change NOW'…..or the dreaded situation that's left you saying  'I HAVE to get this fixed, TODAY!!'.  
I hear you, I really do but it's time. Time to get off the rollercoaster 🎢  
If taking a few extra days to make this decision means you can find your forever Stylist, the one who will get it right each and every time, wouldn't you do it? 
Time to Window Shop.  
I'll be back with part 3 in the series soon! 😉
If you have any comments or questions as we go through this please pop them below! I'm happy to help! 
Thanks for listening,
Carrie