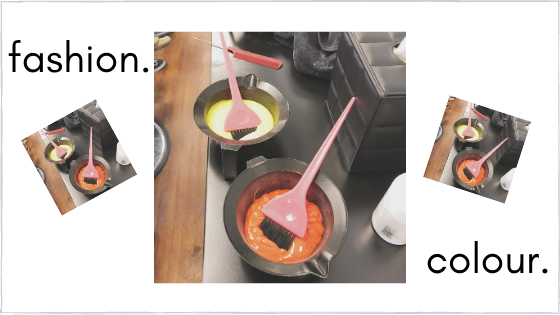 We all love the pictures of Fashion hair colour!! Just to clarify from the start – Vivid/Fashion terms are interchangeable when talking about this type of colour 😉
Whatever you want to call it, it's safe to say whether you would wear it or not, it draws your attention! All the colours of the rainbow (and more!), bright, bold and beautiful.
While wearing them isn't everyone's cup of tea (just ask Danielle when I tried it once 😱  😂 ), if you love them and have always wanted to unleash your inner unicorn🦄  here are some questions to ask yourself before taking the leap.
Don't get me wrong, if you want to do it, DO IT! These questions are just some food for thought if you are sitting on the fence of indecision!
1. Do you wash your hair everyday?
If you feel you need to wash your hair daily your colour will fade significantly faster than someone washing their hair biweekly.  Fashion colours are semi permanent dyes which means every time you wash, you can wave good bye to a bit more of your colour as it goes down the drain.
Some manufacturers claim a lifetime of 25-42 washes for their colours.  My experience is that claim is pretty generous.
Truth Bomb 💣  The more you shampoo the faster it fades, and by fades I mean disappears.  If you want the colour, you have to love washing your hair far less frequently.
2.  Do you invest in professional products?
This is not a sales pitch, just facts. (If you don't believe me check out my other blog about Magic Products LOL) 🙈
One wash with the wrong shampoo using a harsh cleansing ingredient and/or a high ph, means kissing the colour goodbye. Literally.  The type of semi-permanent colour used can make a difference as can whether it was applied on dry or wet hair, how long it was processed, and how it was rinsed out, etc, etc.
BUT – none of the factors I just listed matters as much when it comes to the longevity of your colour as what products you use to take care of it. It is #1.
Truth Bomb 💣  Use what your Stylist recommends to you.  They do so knowing it will help keep your new colour as long as possible because they've tested it.  Seriously!
3.  Are you willing to make a substantial financial investment in salon services?
Few clients understand the process necessary to get the bright, beautiful colours plastered all over social media – and that's OK! 
It's not your job to know, its our job to explain it to you…….so here we are! 😉
Fashion Colours cost more to create because they require a multi service process.
The hair must be lightened to a very light blonde before the Fashion colour can be as bright as what you see on Insta 📸
If we applied the same fashion colour onto brunette hair and pre-lightened blonde hair, the results will cement the necessity for prelightening in your mind. Maybe that can be an entire blog of its own…….🤔
Anyway, the brunette hair will appear practically no different at all while the blonde hair will give an incredibly vibrant colour result. It's simply the nature of this type of dye.  Without lightening you will not be walking away with anything remotely like a fashion colour. 
Truth Bomb 💣  The darker your hair is the more pre-lighteneing work that needs to be done. This means you will need to invest in multiple services before walking away with your desired colour.  Trust me – if we could simplify this process we 100% would!
4.  Is your desire for Fashion Colours a whim or a well thought out desperation for wearing this type of colour?
Whims are awesome. They inject a variety into life and keep it exciting! They come to us as quckly as they leave us and are almot always created by our basic human need for variety.
Well thought out desperation on the other hand, means we know we're in it for the long haul.  We'll do what's necessary to get the best result.  
Truth Bomb 💣  Whims should be indulged in with tape or clip in Fashion extensions.  Quick, instant, and you can be back to your normal as quickly as it takes to remove them. Well thought out despertion on the other hand……it's seriously time to book an appointment 🤷🏼‍♀️
My goal is never to deter you from getting a service done but to make sure you have all the info to make an educated choice.  
And the choice is always yours 💗
No great haircolour ever came to be by a Stylist convincing a client to get it.  
The desire for the Unicorn Life 🦄  starts inside you!
Thanks for listening,
Carrie