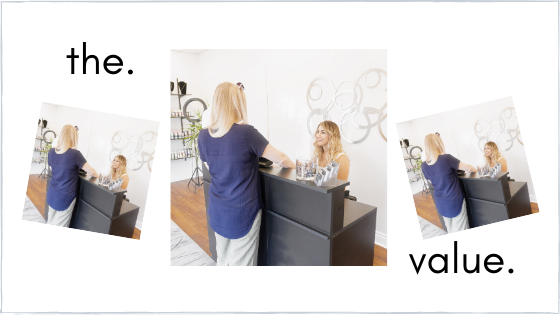 How did your interviews go? Hopefully you have a standout candidate already, but if you haven't had time to do them or are still scratching your head wondering how you choose you are in the right place!  Today we are talking about the 💸💸💸💸
It absolutely pays to be picky about personal services which is definitely why I'm writing this for you! A salon experience should be more than money due for services rendered.  You should receive far more value than the amount of money you paid. 
So what exactly does that mean? 
What else did you get out of your hair appointment besides the hair?
Example:
Thelma goes to Salon 'A' for a cut and style and pays $45 for a great service.

Louise goes to Salon 'B' for a cut and style and also pays $45 for a great service.
They look exactly the same right?
Hold up 🛑 We have may more to talk about besides price!
Thelma's appointment at Salon 'A' took around 30 minutes.  A quick in and out with lots of time to run a few errands after! 
Louise's appointment at Salon 'B' on the other hand was 45 minutes since there was a lengthy shampoo and scalp massage included for a little extra pampering as well as some in-depth problem solving for the issue she's been having with getting enough volume.
With both appointments priced at $45 which one has greater value? The one that saves you time or the one that takes time to pamper and help you? 
There is no 'right' choice, only the choice you see the most value in.
Personally this is why I love how many Salon/Stylist options there are locally.  That may sound backwards to you as I am an owner of one of those salons, but it's so true!  We all offer something different making the odds of finding somewhere that aligns with what you value most that much greater.
One more example:
Betty goes to Stylist 'A' for a full head of foil highlights, toner, cut and style, and pays $165 for a great service.

Veronica goes to Stylist 'B' for a full head of foil highlights, toner, cut and style, and pays $195 for a great service.
Sure, if you are measuring on price alone Stylist 'A' would be a clear winner because her price was $30 lower but  here's how it breaks down keeping value top of mind. 
Stylist 'A' has been licensed for 2 years with no additional education.  Stylist 'B' has also been licensed for 2 years but has completed an additional year of continuing education, and uses very high quality products.
Do you place the most value on price or do you see the value in paying an extra $30 for your service knowing that your Stylist has had more training and you receive the benefit of top of the line products?
Again, there's no right choice – just your choice. 
Here's a list of some common things you may want to check out in order to fully compare value:
How long the service takes

Perks of being a client (promotions, giveaways, etc)

The experience provided during your service

Quality of products used during your service

Total price and

the cost of future maintenance

Your Stylist's knowledge on how to keep your hair healthy doing the services you love to have

Your Stylist's level of Education

Involvement in your community – does part of the payment you leave get put directly back into your community?
Just think about it.  The relationship you develop with your Hairstylist is very unique.  This is the person that sees you through getting married, births, deaths, sickness and celebration! That's no ordinary relationship! 💞
I'll be back to wrap up this blog series with part 6, which in my opinion is the most important one!
Thanks for listening,
Carrie