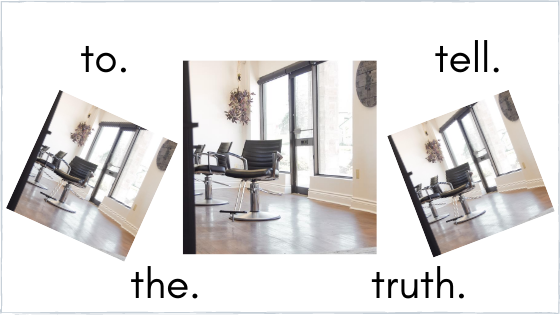 Are you guilty of leaving a little something left unsaid during your consultation? A little at home craftiness or perhaps a visit with a different Stylist? 🤔
Your consultation is where a Stylist learns everything they need to know about your hair. We call this 'hair history'.  Think of it like your hair's life story – exactly what your hair would say if it was spilling the T ☕️
Your very first consultation with a new Hairstylist should be DETAILED 💯.  Questions which may seem almost silly to you, can hold very valuable information for us that we need to anticipate how your hair will react during your service. Even for returning clients, your subsequent consultations (yes – there should always be one) will contain lots of questions on your experience with your hair since we last saw you.
So when a Hairstylist asks you 'Is there any hair colour on your hair right now?' or 'Have you had hair colour since you were last here?' and you answer 'NO', there's a few different ways this can all play out……
Scenario 1:
There really is no hair colour nor has there ever been hair colour on your hair. Congratulations! 🎉  You are officially a Hairstylist's dream client and have won the 'We can make your hair ANY colour you want!' Prize.  Seriously – you are a catch! A hair colour virgin!  We've heard of you but until now thought you were a rare mythical creature only seen in our hair colour dreams!!  Yes, we are excited 😂
Scenario 2:
There is no hair colour left in your hair because it's all 'faded out' – and anyway that was 6 months ago. Those highlights that you covered up with said colour – you can't see those anymore either. What difference would it make now?
Considering the conversation you've just had with yourself, you answer 'NO'. Now visually this may be true – you aren't 'lying'. You just can't see the colour anymore so what's the big deal?
Red Flag! 🚩  Or in your Hairstylist's case, white flag! 🏳  🙈
Let's say you are asking your Hairstylist to put some highlights in your hair.  After sitting forever to have all the foils put in your Stylist comes back to check if you are ready to rinse and oddly asks you 'Are you sure there isn't any hair colour on your hair?'. 
Want to know why we ask this? Staring back at us from that open foil is the exact line where your new blonde goes from beautiful and light (on your natural hair) to orangey and dark (where that 'faded out' old hair colour is). Oh and then look there where it goes from beautiful and light to white and shredding exaclty where those old highlights were 😢   We could have formulated for this – had we only known……
Scenario 3:
You want to confess but are afraid to hurt our feelings.  Or maybe you are embarrassed about experimenting (side note: we've alllllll experimented 😂  )  or simply just don't want to have what you anticipate being an awkward conversation 🤷🏼‍♀️.   So in response to our question about any recent hair colour, you go ahead answer 'NO'.
Red Flag! 🚩  Or in your Hairstylist's case, white flag! 🏳. 🙈
See the results from Scenario 2.  They apply here as well.
Let me fill you in on a little secret 🤫.  There are very, very few cases where we look at the hair during consultation and can't tell whether it has been previously coloured or not.  But as in the scenarios above when we ask 'Is there any hair colour on your hair?' and you say 'NO', we believe you and formulate accordingly.
The hair history you give us at the beginning of your appointment helps us get you the hair colour you want.  If we have all the information (no matter what you really wish was better left unsaid) we can anticipate problems and account for them.  We can realistically tell you what will happen, considering your hair history, and exactly what your options are to get you to where you want to go.
Moral of the story?  Don't be afraid! Spill your heart out in the consultation.  Tell us every single, little tiny thing you've ever done, or had done to your hair!  Have long hair? Get comfy – that's a good 3 to 4 years of story telling you have ahead of you.
Just spill it sister ☕️  We'll just be here listening and taking notes!
Thanks for listening,
Carrie